The Role of Sleep in Gut and Heart Health








Poor sleep has been linked to high blood pressure, and a new study suggests it's because disrupted sleep damages the gut microbiome.
By Angie Lo
Deadlines, midterms, constant commitments—many of us have felt the struggle of being robbed of a good night's rest. Not only does poor sleep lead to feeling groggy and unfocused, it can also bring about long-term health risks—increased blood pressure being one of the most common.
Researchers at Illinois University decided to look further into this health risk and conducted a study on its possible mechanisms. The result? They discovered a new link between poor sleep and rising blood pressure, as well as a potential solution to this concern—all involving something called the gut microbiome.
Your local gut gang
Your intestinal tract is home to trillions upon trillions of tiny microorganisms. These microorganisms are more commonly known as gut microbes, and the entire collection of them as your gut microbiome.
Far from freeloaders, these little intestine-dwellers help to perform essential functions. These functions include breaking down food and absorbing nutrients, as well as producing new compounds. These compounds go on to perform even more vital functions throughout your body, aiding in processes from metabolism to immunity. In this way, your gut microbes are linked to many other aspects of well-being—when your microbiome is healthy, it's a win for the rest of your body!
Like our Earth's ecosystems, the gut microbiome is extremely diverse, with hundreds of different unicellular species. The microbiome's makeup of different types of intestinal microbes is known as microbial composition. Since different microbes perform different tasks, it's important that their numbers stay balanced. Imbalances in microbial composition can hinder the completion of essential functions, negatively impacting other areas of health.
Such imbalances are known to commonly arise from factors like poor diet or lack of exercise. However, recent research has found that changes in microbial composition can also be caused by poor sleep schedules.
But how exactly does inadequate sleep change the microbiome? And can these changes be linked to other health-related effects, including rising blood pressure? These were questions raised by a team of researchers at the University of Illinois and tackled in a subsequent study.
Sleep schedules, scat, and succinate
The researchers first examined how sleep affects the microbiome of rats, who also experience increased blood pressure from poor rest. In the study, rats were divided into two groups. One group retained their normal sleep schedule, and the other group had their sleep schedule regularly disrupted. These disruptions prevented the rats from falling into deep sleep and resulted in them getting significantly less sleep per hour. This process continued for a total period of 28 days.
During this time frame, researchers also studied the rodents' microbiomes by examining each rat's fecal matter. Feces contains traces of intestinal microbes, which reflects which types of microorganisms are in the gut—and how much of each type there are. These traces allowed researchers to get a picture of each rat's microbial composition and provided a way to compare the compositions of the two groups.
Researchers discovered that compared to rats with good sleep, rats with poor sleep had lower numbers of certain essential microbes. Some of these microbes, it turned out, are responsible for producing a compound known as succinate.
In the body, succinate can get converted to a compound called propionate, which plays a role in reducing blood pressure. Thus, a lack of succinate-producing microbes would prevent such reduction and lead to a higher blood pressure—potentially helping to explain this effect of inadequate sleep.
RELATED: What do you think about when you sleep?
Moving beyond
This new link between sleep and heart health has opened up lots of new doors, and more research is being suggested to further explore this discovery's significance. Suggestions for further research include examining other ways in which sleep affects the microbiome and seeing what these effects look like in humans.
Even more excitingly, this discovery has also paved the way for a potential solution for high blood pressure. Because increased blood pressure is linked to a lack of succinate-producing gut microbes, researchers have speculated that supplementing patients with these microbes may prevent this health risk for those with poor sleep. The goal of creating a proper intervention is still very much in the works; however, with further examination and research, one may hopefully soon arrive.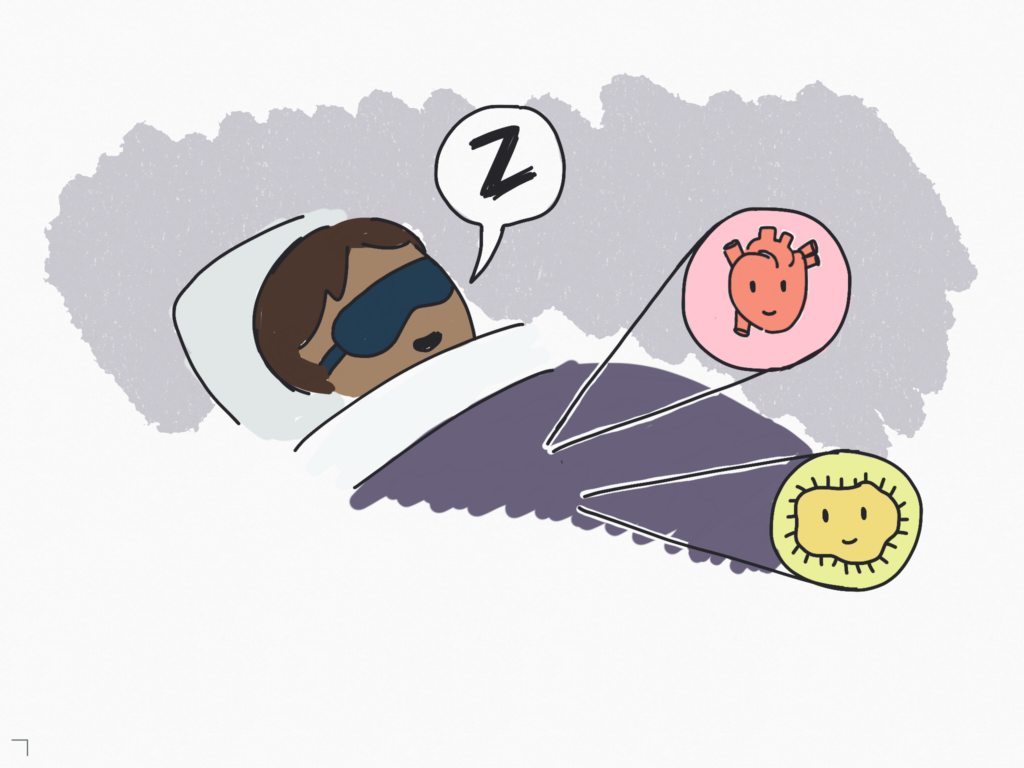 In the meantime, it's always good to make improvements to our sleep habits whenever possible, as well as adopt helpful practices for gut health. Some easy but reliable methods for better sleep include limiting screen time before bed, playing calming music at night, and using an eye mask to block out extra light. For those with lots of commitments, creating and sticking to a planned schedule helps ensure they don't cut too much into sleep time.
As for maintaining a healthy gut, practices such as consuming more fiber, exercising regularly, and increasing fruit and vegetable intake are all good ways to get those gut microbes—and the rest of you—balanced and working.
This study was published in the journal Physiological Genomics.
All images created by Angie Lo
Reference
Maki, K. A., Burke, L. A., Calik, M. W., Watanabe-Chailland, M., Sweeney, D., Romick-Rosendale, L. E., Green, S. J., & Fink, A. M. (2020). Sleep fragmentation increases blood pressure and is associated with alterations in the gut microbiome and fecal metabolome in rats. Physiological Genomics, 52(7), 280-292. https://journals.physiology.org/doi/10.1152/physiolgenomics.00039.2020
About the Author
Angie Lo is an undergraduate student at the University of Toronto, currently majoring in Physiology and English. When not writing or studying, she can be found drawing cartoons, reading poetry, or cracking her tenth corny science pun of the day.