Off-Grid Tiny House Will Blow Your Mind








This is not the set of a sci-fi show. It is the Ecocapsule, an independent off-the-grid micro house from Nice Architects, an architectural studio in Bratislava, Slovakia.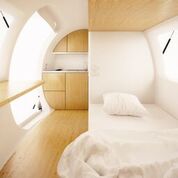 The Ecocapsule has been in development since 2008. Recently, a prototype went on display for the first time at the Pioneers Festival in Vienna, Austria, and EH Science invited the architects to talk about their egg-shaped creation.
"With its off-grid life span, portability, and flexibility, it is suitable for a wide range of applications–from an independent research station or a tourist lodge to an emergency housing or a humanitarian-action unit," says architect Igor Zacek.
The design team says that this tiny house can "comfortably" accommodate two adults. The efficient layout includes a fold-out bed, workspace, kitchenette with running water, flushing toilet, and a hot-water shower.
With its own solar panels, wind turbine, composting toilet, and water collection and filtration systems, this high-tech tiny house can theoretically function off-grid for a year at a time.
Why This Tiny House Is Egg-Shaped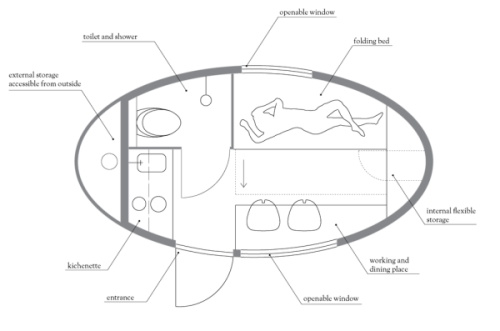 The egg shape of the Ecocapsule has been getting a lot of attention in Vienna and online, but Zacek tells EH Science that the unique egg shape of this tiny house does more than give it a futuristic appearance. "It is not only design. A sphere has the smallest surface to volume [ratio]. Therefore, it is losing less energy than, for example, a cube. Egg shape is just a modification of the spherical shape to accommodate a habitable interior."
How it Works
While Zacek won't tell us what the futuristic Ecocapsule tiny house is made of, he is happy to share other details.
The design team says that the Ecocapsule is "fitted with all essentials necessary for a comfortable, prolonged stay without a need to recharge or re-supply." The primary power supply is a 750W wind turbine that protrudes from one end of the tiny house. The secondary power supply comes from 2.6m2 of high-efficiency solar cells on the roof. The dual power system and a high-capacity battery provide power during periods of reduced sunlight or wind.
The unique shape allows the dwelling to collect rainwater and dew. Then, built-in water filters allow inhabitants to utilize almost any water source.

Tiny House, Better World?
The designers envision their off-grid tiny house serving a variety of needs. They hope it will enable more eco-friendly tourism, facilitate the work of scientists and artists, and shelter the urban homeless.
The Ecocapsule is designed to fit into a standard shipping container for easy transport worldwide. The folks at Nice Architects say this tiny house can be shipped, airlifted, towed, or even pulled by pack animals to just about anywhere.
More about the Egg-Shaped Tiny House
EGG-SHAPED TINY HOUSE TO REVOLUTIONIZE OFF-GRID LIVING