Early Tetrapod Skull Looks like Crocodile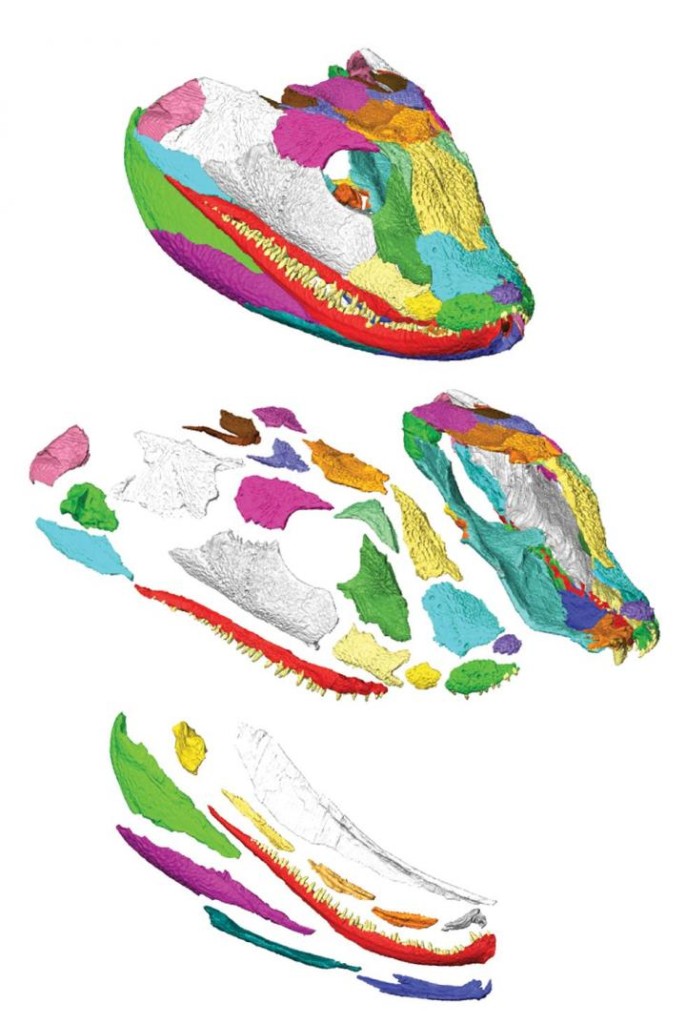 Our 360 million-year-old tetrapod ancestors may have been more like modern crocodiles than previously thought, according to a new 3D skull reconstruction from the University of Bristol, UK.
Acanthostega gunnari was a "four-footed" vertebrate, also known as a tetrapod, that invaded land during one of the great evolutionary transitions in Earth's history, 380-360 million years ago. Tetrapods evolved from lobe-finned fish and display a number of adaptations that helped them survive on land. "These new analyses provide fresh clues about the evolution of the jaws and feeding system as the earliest animals with limbs and digits began to conquer the land," says Emily Rayfield from University of Bristol's School of Earth Sciences.
Iconic Tetrapod
This particular tetrapod is an iconic fossil species, crucial for understanding the anatomy and ecology of the earliest tetrapods. However, after hundreds of millions of years in the ground, fossils are often crushed and deformed. Squashed fossils have limited our understanding of how these early land-pioneering animals looked, breathed, and ate, until now.
Reconstructing the Tetrapod
To accurately reconstruct the skull of this species, scientists are now using high-resolution X-ray computed tomography (CT) to scan specimens of Acanthostega gunnari from East Greenland. The resulting images show that the animal had a head surprisingly similar to the head of the modern crocodile.
"Because early tetrapod skulls are often 'pancaked' during the fossilization process, these animals are usually reconstructed having very flat heads. Our new reconstruction suggests the skull of Acanthostega was taller and somewhat narrower than previously interpreted, more similar to the skull of a modern crocodile," explains Laura Porro, also from University of Bristol's School of Earth Science.
The research team found that the reconstructed skull had a longer snout and a more strongly hooked lower jaw than previously known. They also found clues as to how the species fed. The size and distribution of its teeth and the shape of contacts between individual bones of the skull (called sutures) suggest Acanthostega may have seized prey using its large front teeth.
Inside the Tetrapod Skull
The team uncovered a number of bones deep within the skull, including some that had never  been seen before, resulting in a detailed understanding of the Acanthostega skull.
The researchers plan to apply digital modeling methods to other crushed fossils of the earliest tetrapods to better understand how modifications to these early animals' bones and teeth helped them meet the challenges of life on land.
Digital models and 3D reconstructions of original fossils are useful in scientific research and education. Reconstructed specimens can be easily accessed around the world, which eliminates the need for scientists, researchers, students, and the public to travel thousands of miles to see the originals. Digital modeling also limits the damage to fragile and valuable fossils caused by handling, making science more accessible to everyone.
These findings are published in the journal PLOS ONE.