Cooling Electronics with Graphene-based Film








How many fans does it take to keep your computer from overheating? Electronic systems accumulate a great deal of heat, mostly due to the ever-increasing demand on functionality. Computer users have been using cool air and liquid to reduce heat, but now researchers at Chalmers University of Technology have developed a method for efficiently cooling electronics using graphene-based film. The film is a mere 20 micrometers thick, yet has four times the thermal conductivity capacity of copper.
Cooling Electronics, Protecting the Environment
Getting rid of excess heat in efficient ways is essential for prolonging the lifespan of your electronics. Moreover, finding an efficient way to do so would mean a massive reduction in energy usage, because approximately half the energy required to run computer servers is used for cooling purposes alone, according to an American study.
Other attempts at cooling electronics have been made with graphene, but this time the graphene can be attached directly to electronic components made of silicon.
A research team led by Johan Liu, professor at Chalmers University of Technology, has been developing and fine-tuning the use of graphene to keep silicon-based electronics cool.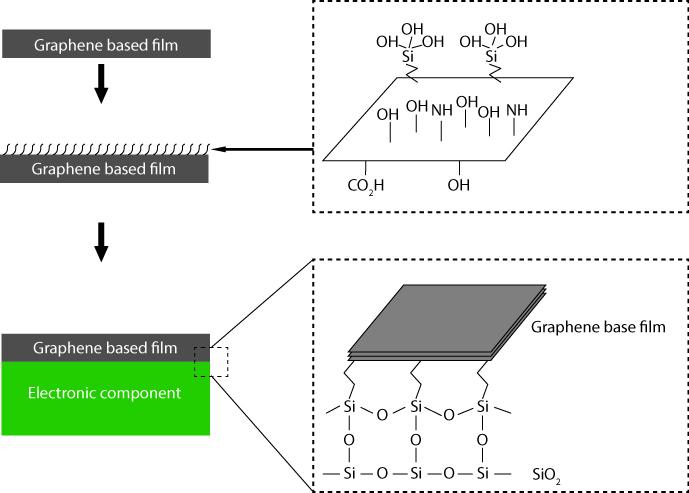 "Increased thermal capacity could lead to several new applications for graphene," says Liu. "One example is the integration of graphene-based film into microelectronic devices and systems, such as highly efficient Light Emitting Diodes (LEDs), lasers and radio frequency components for cooling purposes. Graphene-based film could also pave the way for faster, smaller, more energy efficient, sustainable high power electronics."
RELATED: NEW GRAPHENE MICROPHONE OUTPERFORMS NICKEL
The team struggled at first because the amount of graphene needed to keep the electronics cool wouldn't stick to the silicone. "We have now solved this problem by managing to create strong covalent bonds between the graphene film and the surface, which is an electronic component made of silicon," Liu says.
Through a series of experiments, the Chalmers research team found that an addition of (3-Aminopropyl) triethoxysilane (APTES) molecules solved the adhesion problem. When heated and put through hydrolysis, the molecule mixture creates so-called silane bonds between the graphene and the electronic component.
As an added bonus, the new mixture doubles the thermal conductivity of the graphene. With the next generation of computing systems, we might be able to cut energy usage in half and turn off our power-greedy cooling systems for good.
This research on cooling electronics was conducted in collaboration with Shanghai University in China, Ecole Centrale Paris and EM2C – CNRS in France, and SHT Smart High Tech in Sweden. The results were published in the peer-reviewed scientific journal Advanced Functional Materials.
Reference
Zhang, Y., Han, H., Wang, N., Zhang, P., Fu, Y., Murugesan, M., . . . Liu, J. (2015). Improved Heat Spreading Performance of Functionalized Graphene in Microelectronic Device Application. Advanced Functional Materials,25(28), 4430-4435. doi:10.1002/adfm.201500990
Image at top of graphene-based film on an electronic component with high heat intensity courtesy of Johan Liu / Chalmers University of Technology