Asbestos in Makeup Highlights Slack Talc Rules








Unregulated talc sources may expose more consumers to asbestos in makeup, according to a new study pushing for more product safety regulations.
By Julia Travers
The foundation you massage into your pores, the blush your partner brushes over their skin—it's easy to assume makeup is safe to use, but this isn't always the case. Sometimes, there is asbestos in makeup. Asbestos is a carcinogen. A recent study commissioned by the nonprofit Environmental Working Group (EWG), which carries out environmental health research and advocacy, found about 14 percent out of 21 cosmetics tested contained asbestos, including one product for children.
The dangers of asbestos in makeup
Asbestos exposure is linked to several diseases, including asbestosis, lung and ovarian cancer, and mesothelioma (a cancer that has no cure). Industrial-use talc has been consistently found to contain asbestos, and cosmetic-use talc is mined from the same sources. A single asbestos fiber can cause health problems decades after inhalation, making the presence of asbestos in makeup a serious concern.
Many powdery cosmetics like blush, eye shadow, and face and body powders contain talc, and creams can, as well. In 2019, EWG found 2,119 products with talc that were on the market between 2018 and 2020, of which more than 1,174 were powdered. According to EWG, using these powdered products can present an inhalation risk for talc, which may be contaminated with asbestos.
Cosmetic companies are largely responsible for their own safety regulation—specific tests or reporting are not required by the FDA. EWG has been raising the alarm on the various risks of personal care products for years. It runs a database called Skin Deep that supplies hazard ratings for some 70,000 items.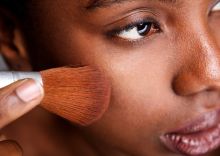 Lack of talc regulations for cosmetics and recent findings
The Cosmetic, Toiletry, and Fragrance Association (CTFA) released specifications in the 1970s stating that "cosmetic talc" shouldn't contain asbestos. But CTFA only offers voluntary testing for asbestos. And, the researchers of the recent study state the method CTFA recommends, X-ray diffraction (XRD), "lacks adequate sensitivity and specificity to screen for asbestos when compared to electron-microscopy based methods."
In the recent study, the Scientific Analytical Institute of Greensboro, North Carolina, used an electron-microscopy based method: Transmission Electron Microscopy (TEM). The products sampled were bought in retail stores in San Francisco, California, Washington, DC, and from an online retailer. Three out of the 21 cosmetic products tested contained asbestos, or about 14 percent. The contaminated products included eye shadows and a makeup kit marketed for kids. 
In 2019, the FDA also discovered asbestos in makeup in its own study. Using TEM and other methods, it determined that 9 out of 52 (greater than 17 percent) of talc-containing cosmetic products tested contained asbestos. The FDA released consumer warnings about these products, and the companies voluntarily recalled them, but the agency is not empowered to require makeup recalls. Out of the thousands of talc-based personal products on the market, many remain untested and all remain largely unregulated.
"While consumers should be alarmed and outraged, it's hardly a surprise, considering the federal law regulating the cosmetics industry has not been updated since 1938," Scott Faber, EWG's senior vice president for government affairs, said in a statement.
New regulations and how to avoid asbestos in makeup
"The current regulations for cosmetics are outdated and do not give the FDA the authority needed to keep consumers safe. Updated regulations are needed to ensure that products are tested for harmful chemicals and contaminants before going on store shelves," study co-researcher and EWG senior scientist Tasha Stoiber, PhD, told Science Connected.
The FDA is currently leading an interagency working group to develop new potential guidelines for asbestos in talc-based consumer products. TEM, the asbestos-screening approach used in the recent study, is among the methods recommended by this group.
Rep. Debbie Dingell (D-Michigan) has introduced legislation relating to testing for asbestos in cosmetics, and Rep. Frank Pallone, Jr. (D-New Jersey), chairman of the House Committee on Energy and Commerce, has proposed legislation relating to expanding the FDA's regulation of cosmetics.
The study's researchers write, "[The] true exposure of consumers to asbestos is poorly characterized and likely underestimated." While new regulations regarding talc and asbestos in makeup are pending, what can users of cosmetics do to avoid asbestos exposure?
Stoiber recommends avoiding certain products, "particularly powders that contain talc, especially for children. Makeup in powder form can be easily inhaled into little lungs. Instead, look for cream-based blushers and eye shadow." She also suggests consumers use the EWG Skin Deep database "to help you choose cosmetics and other personal care products with the fewest hazardous ingredients."
This study was published in the journal Environmental Health Insights.
References
Center for Food Safety and Applied Nutrition. (2020, March 9). FDA releases data from the agency's year-long sampling assignment to test talc-containing cosmetic products for the presence of asbestos. U.S. Food and Drug Administration. https://www.fda.gov/food/cfsan-constituent-updates/fda-releases-data-agencys-year-long-sampling-assignment-test-talc-containing-cosmetic-products
Environmental Working Group. (2019, March 12). More oversight needed for cosmetics made with talc. https://www.ewg.org/release/more-oversight-needed-cosmetics-made-talc
Environmental Working Group. (2020, November 25). Analysis: Talc-based cosmetics test positive for asbestos. https://www.ewg.org/release/analysis-talc-based-cosmetics-test-positive-asbestos
Interagency Working Group on Asbestos in Consumer Products. (2020). Preliminary recommendations on testing methods for asbestos in talc and consumer products containing talc. U.S. Food and Drug Administration. https://www.fda.gov/media/134005/download
Stoiber, T., Fitzgerald, S., & Leiba, N. S. (2020). Asbestos contamination in talc-based cosmetics: An invisible cancer risk. Environmental Health Insights, 14. https://journals.sagepub.com/doi/10.1177/1178630220976558
About the Author
Julia Travers is a writer who often covers science and social issues. She has bylines with Earth Island Journal, NPR, Discover Magazine, LabRoots and many other outlets. Find her online at her portfolio and on Instagram.