Girl Scouts of Southwest Indiana Citizen Science








Through a community effort, more than 80 Girl Scouts of Southwest Indiana and their leaders became citizen scientists in April 2021.
By Amanda Scurry
Through a community effort, the Girl Scouts of Southwest Indiana got ready to become citizen scientists at six different sessions in two locations in the council April 24 and 25, 2021. More than 80 girls in grades K-10 and their leaders worked to sharpen their scientific observation skills through a series of games, demonstrations and simulated science. Want your troop to get started with citizen science? Check out the Think Like a Citizen Scientist Journey on SciStarter.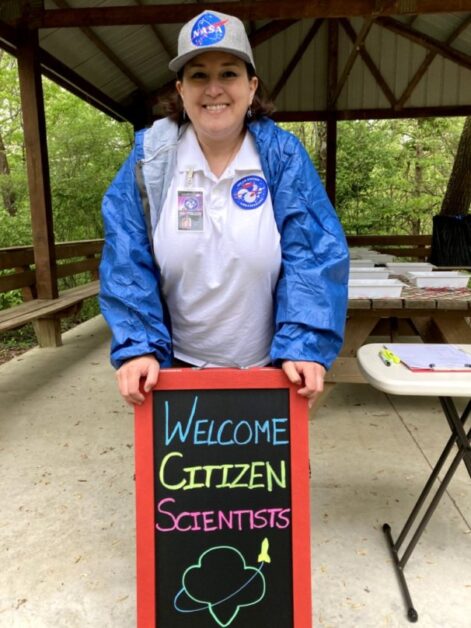 It was within a few days of each other in early March of this year that I learned that April is Citizen Science Month and that SciStarter has partnered with Girl Scouts of the USA to develop a Girl Scout Citizen Science Journey. As I learned more about both things, I decided that I wanted to combine my two volunteer positions with Girl Scouts and NASA/JPL Solar System Ambassadors to put on a citizen science program for our Girl Scout council, an eleven-county region in southwest Indiana. However, I wanted it to be available to as many of our Girl Scouts as possible, so I set off planning six sessions over two days in two different locations for late April. With just about six weeks to go, I began soliciting the help and advice of our entire community to make the event fun, affordable, covid-safe and of course, educational.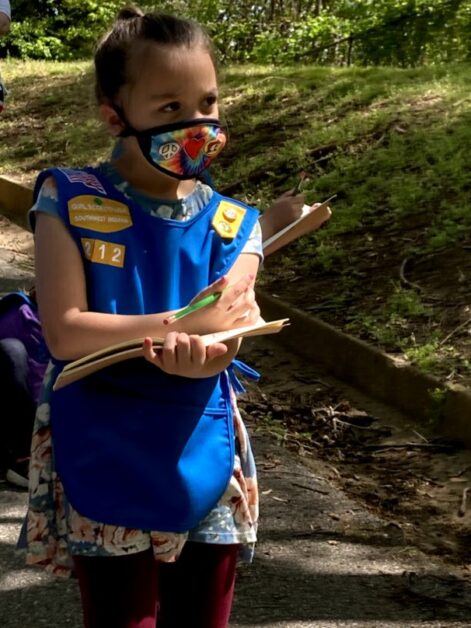 Starting with the SciStarter/GSUSA Citizen Science Journey programming, I used my training as a NASA/JPL Solar System Ambassador to put a space spin on the activities and my experience as a Girl Scout program organizer to make it work for larger groups. The events helped the girls sharpen their scientific observation skills so that they could go out and perform real citizen science in their own backyards.
The Daisies and Brownies who attended the events played a variety of games to hone their observation skills.  They tried to observe changes in their partner's appearance and practiced different techniques to learn how to best remember a collection of objects.  They also had a special guest presenter, a corn snake, who, with the help of his family, showed the girls how he uses his senses differently than humans do to observe the world around him.
A Game Playing App May Have Just Helped Create COVID Vaccines for the Developing World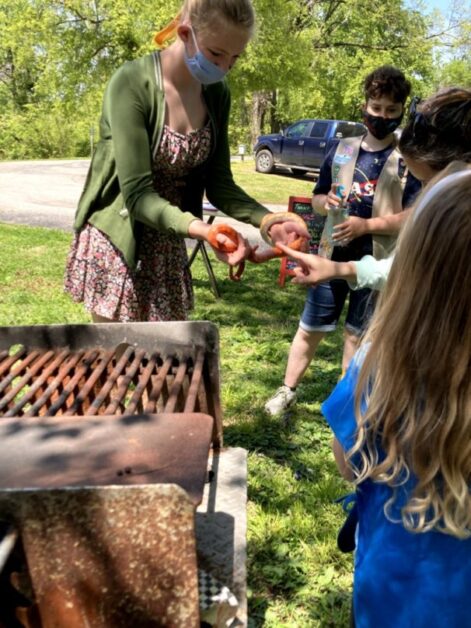 Finally, it was time to put our new skills to the test by observing the size and colors of the stars in a simulated night sky that we set up for them along a trail. The Daisies recorded the number, color and size of the stars in their scientific field journals while the brownies took down all that information and mapped it out using cardinal directions.
The Juniors also worked on their observation skills but additionally learned about the difference between scientific observations and opinions. To make this a little more fun, I developed the game show activity "Solar System Squabble." In two teams, the girls took turns drawing statements that are either scientific observations or opinions about the solar system out of their team's can. With the help of their team, they had to decide which side of the board to place it: Scientific Observation or Opinion. They were rewarded with a ringing bell for correct answers and a buzzer for wrong answers.
Girl Scout Junior Avery Muncy, an aspiring space scientist, was rightfully appalled when her teammate drew the statement "Science is Hard," during the game. "Opinion!" Avery immediately called out.
For their scientific observation practice with our simulated night sky, the Juniors had to observe and record any changes to the sky over four different visits. I told them we were time traveling a week at a time. This way we could make our sky have more drastic changes. They were great at spotting everything: the stars don't move, the moon changes phases, the moon moves a lot and the planet (in this case, Venus) moves a little.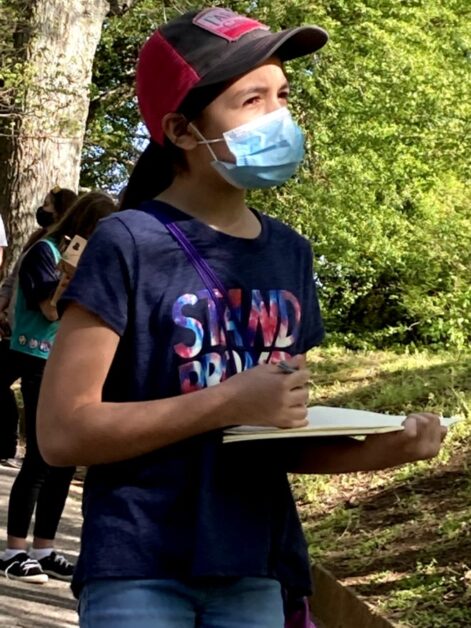 The Girl Scout Cadettes and Girl Scout Seniors at the final session of each day had a more laid-back event. The older girls in middle and early high school had an hour to observe and take in the nature around them and then, through steps, narrow down their observations to what they found most interesting and develop a field guide page on that observation. We had field guide pages on flowers, maple seeds, tree lichen, and even a single flower petal.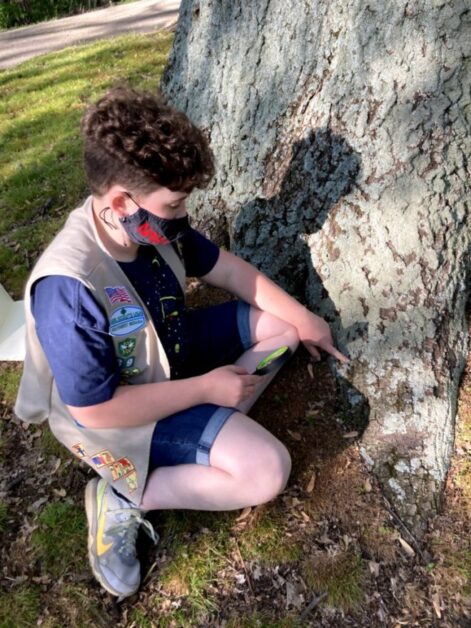 Each group of Girl Scouts was instructed on their next-steps to complete their Girl Scout Journey. They were given a handout on how to login to the SciStarter Girl Scout webpage and the NASA Citizen Science webpage so they could choose a citizen science project that interested them most. Then, I encouraged them to spread the word about the importance and enjoyment of performing citizen science through whatever medium they enjoy the most as their Take Action Project. I can't wait to see their science!
This series of events was truly a community effort. Much thanks to the following:
Girl Scouts of Southwest Indiana
Evansville Day School
Newburgh Chandler Public Library
Linda Spillman Bruns
Gena Garrent
Whitney Muncy
Soi Powell
Tonya Borders
Acclaim Graphics
Girl Scout assistants Samantha Scurry, Elizabeth Scurry and Sophia Jenkins
Ellen, Laina, Alana, Clara and Matanzas the corn snake
The Jenkins family
The Scurry family
Girls and their families can get started now to learn about citizen science and the Journey on SciStarter. For additional information on citizen science, visit SciStarter.org/Education to access an Introduction to Citizen Science tutorial. Scientists need help answering questions, and with citizen science, anyone can turn their curiosity into impact!
About the Author
Amanda Scurry
Amanda Scurry has been fascinated with space exploration her entire life. With degrees in both communication and space studies she loves to share her passion with others, especially children. A lifelong Girl Scout, Mandy has been involved with her community in a variety of roles. She has public speaking and program development experience in both the professional and volunteer realms. She believes connections are key whether it be learning something new or serving your community. Connect with her at amanjohn@hotmail.com and on Facebook at https://www.facebook.com/NASAJPLSSAScurry