April Is Citizen Science Month!








Citizen Science Month on the SciStarter Blog features projects and events to all month long during April. Here's how to get involved!
The year's biggest citizen science celebration is just around the corner! April 1 marks the start of Citizen Science Month, an annual event from SciStarter and partners. Citizen Science is a global movement that involves people from all walks of life in real science that matters to them.
Each April, scientists, facilitators, citizen science project leaders and many others host events and programs to invite more people to discover all the ways they can participate in research that needs their help. Small contributions like sharing a picture of a bee can help a scientist across the country better understand population changes of pollinators (which are responsible for one-third of the food we eat). More committed acts, like reporting weather observations frequently over time, help the National Weather Service improve weather forecasts.
"It's the power of the crowd that drives research and discovery through citizen science," said Emma Giles, program coordinator at SciStarter, in a recent SciStarter LIVE event.
What Is Citizen Science Month?
What started as a single day has grown into a month-long, international celebration.
"We've seen citizen science celebrated and activated on every continent during April," said Citizen Science Month director, Caroline Nickerson.
That includes events like Citizen Science in Antarctica, on April 1, where you can learn how tourists to the frozen continent are helping uncover the biology of the South Pole, and a special "sprint" from Land Pollution Lookout on April 10 inviting volunteers to investigate or identify oil spills in the Niger Delta by classifying online images. Or, discover how you can become a climate change reporter with ISeeChange on April 3 with simple, meaningful tasks like photographing local weather activities.
There are events scheduled for nearly every day of April. Many are hosted online, so anyone can join in, but there are plenty of in-person opportunities this year, too. You can see the full calendar on our Citizen Science Month page. Or go to the "events" tab at the top of the website to search for opportunities.
While you can participate in scientific research on any day of the year, April is all about amplifying opportunities and bringing the global community together.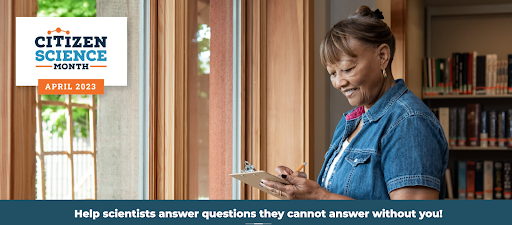 Citizen Science Month 2023 Events
To kick off Citizen Science Month, people from all over the world will play an online game that boosts Alzheimer's research beginning on March 31. It's the annual "Stall Catchers International Catchathon" and no prior experience is required. Invite your family and friends to join you to see who can classify the most data for Alzheimer's research.
Get froggy with Science Friday on April 6 to celebrate National Frog Month (also in April) by exploring projects like FrogWatch and HerpMapper that ask volunteers to find reptiles and amphibians in their neighborhoods and log them for scientists. Or learn about Crowd the Tap, a national initiative that helps ensure safe drinking water by enlisting community members as water quality testers with an April 17 event.
Or, on April 18, tune into "The Future of Health Research with All of Us Wisconsin and SciStarter" to learn more about the National Institutes of Health's All of Us initiative, which aims to collaborate with one million volunteers in order to research future, individualized medical treatments. The event, and others like it across the country during Citizen Science Month, will be offered both in-person and online.
There are many in-person events as well, like the library pop-ups in Arizona that will feature demonstrations of citizen science kits available to check out.
A number of resources for these projects are also available in Spanish.
Citizen Science Month Resources for Facilitators
SciStarter also provides a number of training resources that teach the basics of citizen science. The Foundations of Citizen Science Tutorial is a free resource that shows you how to create a SciStarter account and find projects and walks you through participating. There are also additional modules for librarians, teachers, practitioners and more.
SciStarter also features resources for project leaders and facilitators. Find promotional materials like posters, graphics, social media assets and more to promote events and projects.
If you'd like to organize an event, there's still time to register! You can add an event by scrolling down to the calendar on the Citizen Science Month website to find the "add event" link. Events can be virtual or in-person in your community.
Celebrate Citizen Science Month
Citizen Science Month is making an impact. Attendees report gains in citizen science interest, motivation and confidence, while organizers and project scientists report being very or completely likely to host events again. And respondents who attended an event hosted at a library report a change in how they think about their library and the resources they offer.
Let's all spring into April and Citizen Science Month to discover real science we can do, together.