Apollo 11 Astronauts' Customs Form








Customs declaration forms are familiar documents to international travelers. But what about space travelers? When the Apollo 11 astronauts splashed down in the Pacific Ocean after visiting the moon over 40 years ago, they had to go through customs, too.
About the Apollo 11 Astronauts' Customs Form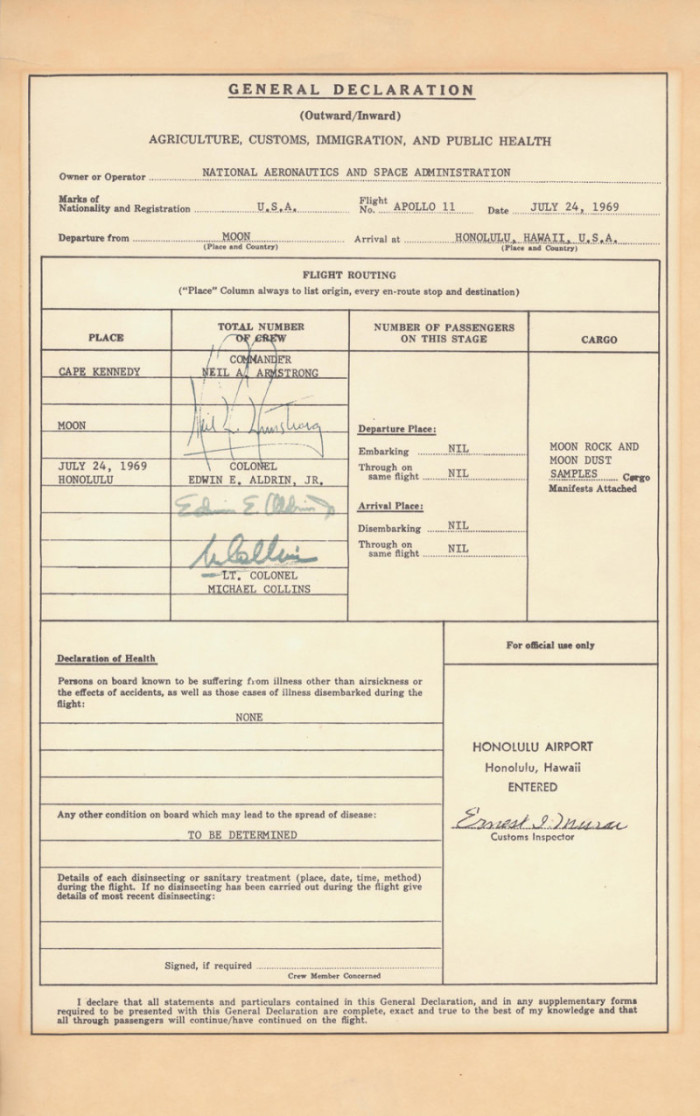 This historic customs form is signed by all three Apollo 11 astronauts: Neil Armstrong, Buzz Aldrin, and Michael Collins. They declared their cargo of moon rocks and moon dust, and listed their travel route as starting at Cape Kennedy (now Cape Canaveral) in Florida with a stopover on the moon. The customs form was filed at the Honolulu Airport in Hawaii on July 24, 1969 and posted to the US Customs and Border Protection website this week to mark the 40th anniversary of the Apollo 11 mission. The authenticity of the Apollo 11 astronauts' customs form has been verified by NASA.
In 1969, the Apollo 11 astronauts, two of whom had been the first to set foot on the moon, splashed down in the Pacific Ocean at 12:50 p.m. EDT, about 812 nautical miles southwest of Hawaii. The astronauts were transported to the aircraft carrier U.S.S. Hornet, where they were quarantined for three weeks in a small trailer. Why? To make sure that they hadn't brought back any moon germs, of course.
RELATED: WE MAY SEND HUMANS TO MARS BY 2030
The day before splashdown, Buzz Aldrin said, "We feel this stands as a symbol of the insatiable curiosity of all mankind to explore the unknown." The U.S.S. Hornet is now docked in Alameda, California and is open to the public as a museum. The cramped quarantine trailer is still on board and open to the public. Visit www.uss-hornet.org for more information.