Archaeologists at Ancient Roman Gold Mines








Archaeologists in Spain studying Las Médulas, the largest known ancient Roman gold mine, found a much larger operation than previously thought.
Archaeologists and geologists in Spain studying Las Médulas, the largest known open-cast gold mine of the Roman Empire, have discovered it was a much bigger operation than previously thought. The mines, located in the province of León, form a unique cultural landscape that was designated by UNESCO as a World Heritage Site in 1997. The mining technique used by the Romans known as ruina montium, (Latin, "wrecking of mountains") created a challenging terrain for later archaeological exploration, and the full extent of the mining operation had been underestimated, until now.
Using a Light Detection and Ranging (LiDAR) laser device attached to an aircraft, the researchers have identified a larger, more complex system used by the Romans to extract gold in the 1st century BC. It was an ancient Roman gold mine operation that, according to one contemporary record, involved a slave labor workforce of 60,000 men.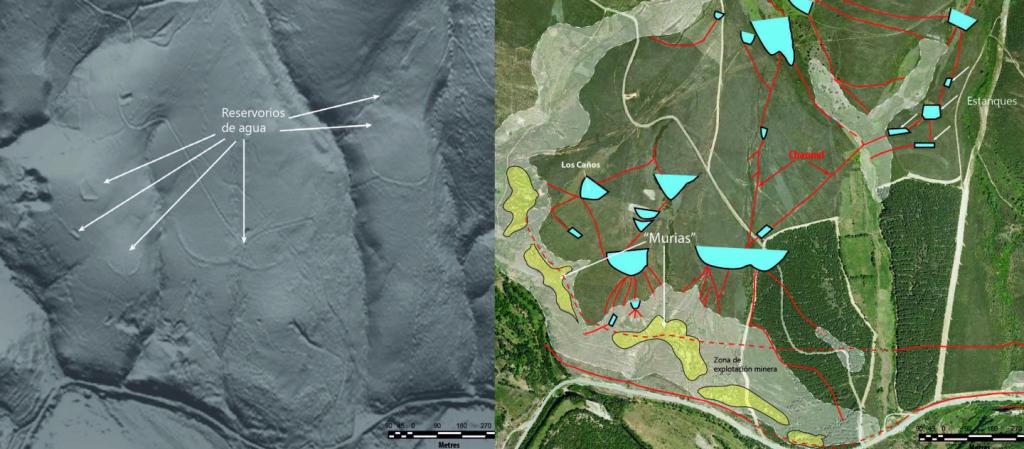 MORE ARCHAEOLOGY: HOW ANCIENT MAYAN CIVILIZATION CAME TOGETHER
"The volume of earth exploited is much greater than previously thought and the works performed are impressive, having achieved actual river captures, which makes this valley extremely important in the context of Roman mining in the north-east of the Iberian Peninsula," says Javier Fernández Lozano, a geologist at the University of Salamanca.
"We have established that the labor that went into extracting the resource until its exhaustion was so intensive that after removing the gold from surface sediments, operations continued until reaching the rocks with the auriferous quartz veins underneath," explains Fernández Lozano.
According to the research team, this study of ancient Roman gold mines in the Eria valley is the first piece of 'geo-archaeology' performed with LiDAR in Spain.
LiDAR uses a laser sensor to scan the ground from an aircraft or drone with geographical references provided by GPS ground stations. It is a useful tool for finding ancient structures such as old reservoirs or channels. "Unlike traditional aerial photography, this airborne laser detection system allows the visualization of archaeological remains under vegetation cover or intensely ploughed areas," Fernández Lozano explains.
LiDAR technology was developed by NASA in the 1960s to analyze the retreating sea ice in the Arctic and composition of the oceans. Since then the use of the technology has been extended to geology, archaeology, and other areas of research.
These findings were originally published in the peer-reviewed Journal of Archaeological Science.