Chilean Solar Farm, Cheapest Power Project Ever








For a long time, Chilean president Michelle Bachelet looked for some sort of magic to ignite her country's sluggish economy. The spell may finally be cast in the form of a solar farm.
Chilean Solar Farm
Bloomberg reports that a host of electricity supply contracts decreasing the average price for customers by 40 percent have been auctioned off. Among these contracts is one deal with Solarpack Corporación Tecnológica to sell power from a 120-megawatt (MW) solar farm for only $29.10 per megawatt hour (MWh). That corresponds to 0.0291¢ per kilowatt hour (kWh), less than the previous record of 0.0299¢ per kWh for a Dubai project! Many of the other contracts also involve renewable energy projects.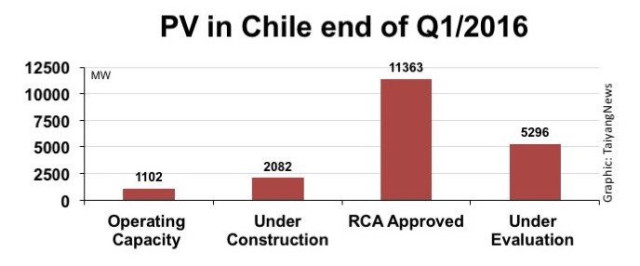 Experts hope that this is just the beginning. A renewed emphasis on machinery investment has helped to create this solar farm energy boom. "Many of these investments are projects that will have to be built," Bachelet said. "We are talking about $3 billion in investment that will generate 3,000 new jobs, so this is good news for the economy."
This Is Your Country on Solar
There is good news for the environment as well as the economy. This 0.0291¢ per kWh contracted price is completely unsubsidized, an incredibly hopeful sign that solar can compete in certain economic climates now. Chile has natural advantages. With some of the world's highest amounts of solar radiation, which makes solar panels more efficient, Chile could become a world leader in this regard.
It should be noted, however, that this low price for solar is contracted for 2021, when the plant construction is expected to be completed, and is based on expected improvements in technology, such as inverters and concentrated solar power (CSP) technology, that will continue to reduce manufacturing costs between now and then. Therefore, we shouldn't necessarily interpret this price as where solar is now, but rather where it is clearly heading in the near future. Still, this is great news for solar!
RELATED: SOLAR POWER MATERIAL 90 PERCENT EFFICIENT
Resources
Sanders, P. "Chile energy auction gives Bachelet a success to boast about." Bloomberg Markets, accessed August 29, 2016.
Romm, J. "Solar delivers cheapest electricity 'ever, anywhere, by any technology.' " Think Progress, accessed August 29, 2016.
Photo of a solar farm by Michael Mees via Flickr.
A version of this article was previously published on the Goodnight Earth blog.
About the Author
—Dr. Jonathan Trinastic earned his PhD in physics at the University of Florida and is a policy fellow in the Solar Energy Office within the Department of Energy in Washington, DC. He is interested in renewable technology and sustainable energy policies, as well as living by Schumacher's mantra that "small is beautiful." Follow Jonathan on Twitter @jptrinastic.