Battling Invasive Species with Virtual Ecology








New research from Tokyo Metropolitan University provides a sliver of hope when it comes to keeping invasive species at bay with simulations.
Imagine how different the world might be if humans had a crystal ball that could detect invasive species' eventual habitats. How much healthier might the Great Lakes be if someone had known about the arrival of the zebra mussel? What if someone could have seen the impacts of the European starling's arrival in the U.S. and prevented it?
Due to accidental transport, acts of well-meaning but misinformed introductions, and other human error, invasive species are thriving in ecosystems across the globe and changing them dramatically. Since these newcomers don't occur naturally in a given area, invasive species often lack predators and competitors for resources like food and shelter. This makes it easy for them to take over – and difficult for us to keep up.
But new research from Tokyo Metropolitan University provides a sliver of hope when it comes to keeping invasive species at bay, using simulations that can predict where they'll go next and help inform strategy.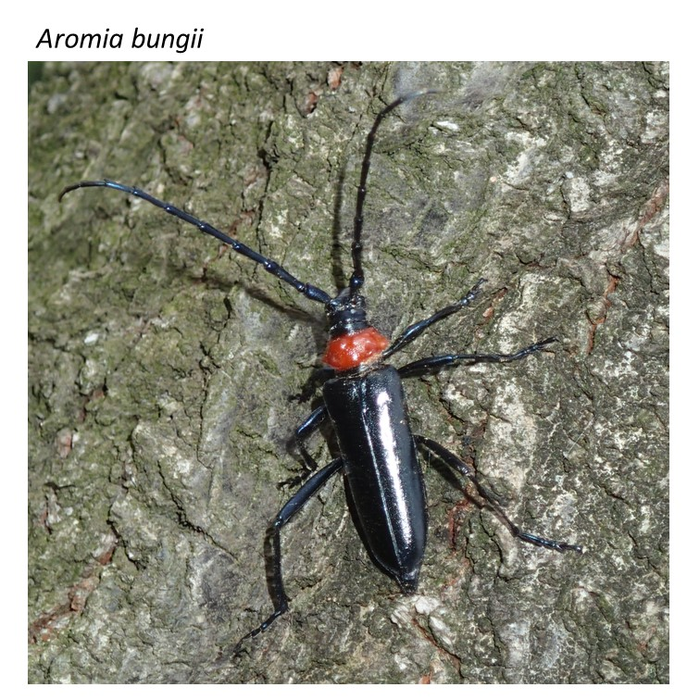 How to beat the beetles?
This study, published in December 2021, focuses on the plum longhorn beetle (Aromia bungii). Though the beetle is native to southeastern Asia, it wasn't seen in Japan until 2012 due to the island nation's geographic isolation.
In less than 10 years since it was first documented in Japan, these wood-boring beetles have wreaked agricultural havoc on the nation's cherry and peach trees, and the study notes that plum and apricot trees could be at risk, as well. In its larval stage, the plum longhorn beetle tunnels into trees' trunks and branches, feeding on the tree and eventually destroying it over several years. Since one of the hardest hit tree varieties, Somei Yoshino, is known for its iconic springtime blooms, the beetle's impact has gone beyond agriculture and started harming the tourism industry.
To make matters even more dire, the plum longhorn beetle has already settled in Italy and Germany, and has been spotted on cargo heading to Australia, Great Britain, and the United States. Some of these countries already have plans in place to get rid of the beetles as soon as they're found, but international experts on invasive species have still labeled it a "significant risk" to trees that grow stone fruit.
Looking at the landscape
To successfully combat nonnative species invasions, the study identifies two crucial processes: intervening to stop their spread, and creating a management plan that specifically targets one area.
To help with the second aspect, the four-person research team turned to "virtual ecology", using computer simulations to plot out a predictive map of where they think the plum longhorn beetle could head next. Led by Takeshi Osawa, an assistant professor at the Graduate School of Urban Environmental Sciences in Tokyo, the team focused on the Saitama Prefecture, dividing the study area into cells or squares to create their map. They applied rules showing how likely the beetles were to move from one square to another, keeping in mind that the insects tend to spend time in cherry trees and are capable of flight. Then the team further considered how nearby rivers and roads would affect the beetles' movements throughout the region, since cherry trees tend to be planted along waterways and roadways.
They formed models around rivers, roads, and plots of land containing cherry trees. Using data supplied from local citizens in the Saitama Prefecture, the researchers compared their simulations to where the insects had been spotted in real life. They found that the river-based models provided accurate predictions on their own, but a combination of both river- and road-based simulations were best at identifying the most intense invasions.
From there, the team expanded their small study area to include all of the prefecture, discovering that invasions in the eastern part of Saitama were more likely than in western areas. As a result, the team recommends that management plans focus on the mid-northeast region of the prefecture, as well as the waterways and roads that connect the area to other regions.
Working together against invasive species
According to the study, nonnative species invasions across the globe can cost up to $162.7 million per year to manage. Though traps and other methods of pest control are available to help stop invasive species, municipalities often have limited resources at their disposal. Studies like this one can help policymakers get ahead when unwelcome guests like the plum longhorn beetle arrive.
While this beetle has already found a home in Japan, Germany and Italy, this new research may help keep them from spreading even more. It may also provide a backup plan for at-risk countries like the United States, in case something goes wrong and the plum longhorn beetle makes its way to even more cherry trees across the globe. Further, the study highlights how seemingly insurmountable problems may become manageable when citizens, scientists, and local governments collaborate to overcome them. 
Do you want to join a citizen science project and help track invasive and native species of birds? Try one of these: Citizen Science Projects for the Birds.
This study was published in the peer-reviewed journal Management of Biological Invasions.
Reference
Osawa, T., Tsunoda, H., Shimada, T., & Miwa, M. (2021). Establishment of an expansion-predicting model for invasive alien cerambycid beetle Aromia bungii based on a virtual ecology approach. Management of Biological Invasions, 13. https://doi.org/10.3391/mbi.2022.13.1.02
About the Author
Mackenzie Myers Fowler is a science writer, avid knitter, and former field station ragamuffin. She holds an MFA in nonfiction writing but would be a soil scientist if she could do it all over again. She lives in Michigan with her husband, her cat, and a plethora of houseplants.
Featured photo of a starling courtesy of Bernard Spragg. NZ.