Wildlife Game of Thrones: Wolf and Crow








Steven Spence visits the wolves at Wildpark Bad Mergentheim in Germany and photographs a contest for food between the wolves and crows.
"Through the bleak and early morn,
Where a stronger will is sworn,
Where the moments move so slow,
And seem to never let you go."
—Excerpt, "The Wolves and the Ravens" by Rogue Valley
The wolves and the crows
Recently I took advantage of some lovely winter weather to visit the wolves at Wildpark Bad Mergentheim in Germany. While there I mostly used my telephoto lens to get close-ups. I briefly switched lenses to get some wider views of the context—trees covered in frost; the wolf pack instead of each individual wolf. As I was taking these photos I witnessed an unexpected interspecies interaction between a wolf and a crow.
Context for the photo sequence
The wolves had been fed pieces of meat to bring them out into the open. The wolves had already finished eating. Crows came in to look for scraps. Some of the wolves were still stalking around or even playing with each other, while most had found a place to take a nap.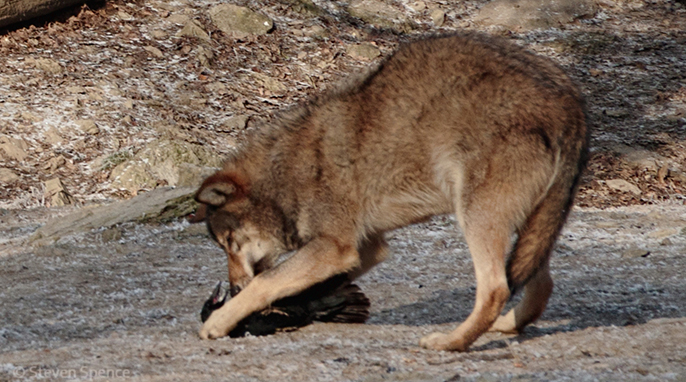 My interpretation of the encounter
I don't think the wolf wanted to kill the crow. The wolf had already eaten. Certainly, once it caught the crow it would have been easy for it to bite hard enough to hurt or kill the crow. Instead, it seemed to me to be a bit of sport. Of course, the crow and its flock didn't know that. In the end, everyone left the encounter unharmed. Some of the crows also picked up some scraps for lunch.
All photos taken by the author at Wildpark Bad Mergentheim in Germany.